Automated Inspection employs machine vision technology to enable industrial equipment to "see" what it is doing and making rapid decisions based on what is sees. The most common applications of Machine vision are to visually inspect, identify defects, measure dimensions, sorting of parts and reading codes and characters. Machine vision uses cameras, optics, lights, hardware and software in different combinations to acquire and prepare information for use in different applications. 
Micrologic isight is a PC based vision platform which is highly scalable. 
Micrologic isight is an AI Vision platform, the core being an AI Vision software suite running on a powerful computer connected to single or multiple cameras.  isight employs Artificial Intelligence (AI) algorithms to see and analyse tasks in manufacturing and quality control.  
Artificial intelligence is expanding machine vision far beyond visual inspection and quality control. With smart machine vision, robots can perceive in three dimensions, hold parts for one another, and check each other's work. They can even interact with human coworkers and make sure they work together safely. isight utilise the deep leaning neural network to learn a task  thus allowing  the vision system to analyse the images, perceive trends and recognise subtle differences  in the images that represent defects and make intelligent decisions on its own.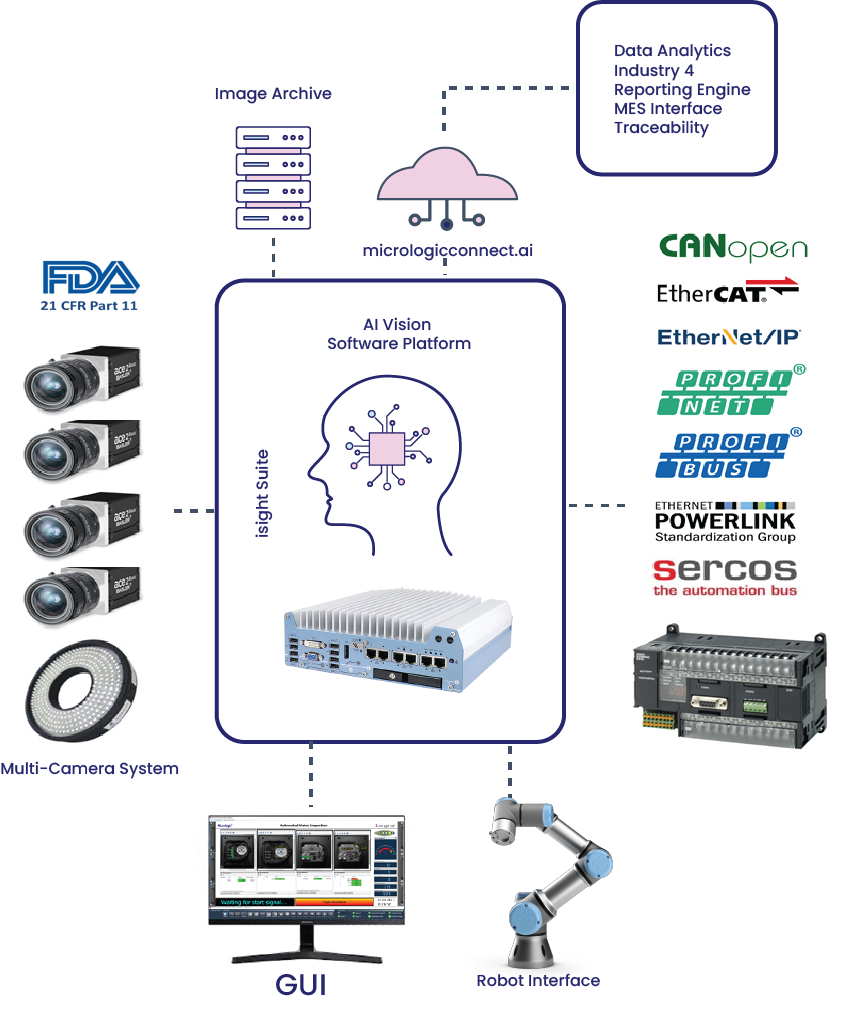 Presence Verification
Assembly Integrity
LED Inspection
Print Verification
OCR & OCV
Direct Part Mark Reading
Gauging & Dimensional Measurement
Surface Defect Inspection
Colour & Intensity Inspection
Barcode, QR Code, Data Matrix reading
Robot Guidance
Deep Learning / AI
Pattern Recognition / Matching
Image Archiving
Car Door Panel Assembly Integrity Inspection 

 

Car Roof Panel Assembly Integrity Inspection

 

Engine Casting Machining Inspection

 

Surface Defect Inspection of precision parts

 

Full Vehicle PDI Inspection

 

Vehicle End of Line Part traceability 

 

Optical Sorting Machine

 

Sub assembly Inspection 

 

Direct Part Mark Reading on engine casting

 
PCBA Soldering Inspection
Surgical Glove Inspection